Photo by Andres Siimon on Unsplash
Alcohol is the biggest cause of disability, illness, and death in people aged 15-49 years in the UK.
Smoking kills 78,000 people in the UK every year. 
The no.1 thing that prevents these deaths? A healthy liver.
The statistics are shocking but, unfortunately, true. Too many people are losing their lives to unhealthy lifestyle choices that impact their everyday health. But it doesn't have to be this way. If you have concerns about your liver health, then managing unhealthy habits is the best place to start.
Learning the damaging effects of alcohol and smoking on the liver is a powerful way to understand what's going on in your body so you can change it. The following article teaches you what the liver does and why its function is critical for your body. It also explains the impact alcohol and smoking has on your liver and the most suitable blood test to check your liver function.
What Does Your Liver Do?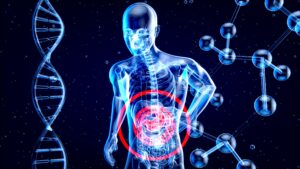 Photo by julien Tromeur on Unsplash
Draws out nutrients and stabilises hormones

– when the blood departs from the intestines and stomach, it flows through the liver. The job of this vital organ is to remove unwanted products and extract the nutrients needed to

balance hormones

and chemicals in your body, such as adrenaline, hormone, sex, and thyroid hormones. Unstable hormones can cause mood dysregulation and harm normal bodily functioning. 
Eliminates toxins

– the liver cleans the blood effectively using

bile

, a fluid that removes toxic waste to prevent it from building and causing liver damage—for example, harmful medication and poisonous substances such as alcohol.
Converts glucose

– when food breaks down, it releases a natural sugar called glucose which gives the body energy. When the liver is not functioning properly it fails to effectively produce the hormone insulin, which transports energy around the body. This is known as

diabetes

. 
Formulates proteins

– the liver breaks down the protein you consume into amino acids. The body then uses these

amino acids

to generate protein specifically for the body, which builds and repairs muscles, hair, skin, nails, and tissue.
Prevents blood clotting

– the body uses amino acids in the bloodstream (extracted when the liver effectively breaks down protein) to regulate blood clotting. If your blood does not clot, you will bleed too much after hurting yourself. 
There are many other functions of the liver that you can read here. 
What Does Smoking Do to the Liver?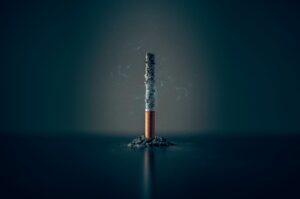 Photo by Mathew MacQuarrie on Unsplash
Increases toxins in the body
It's a well-known fact that the tobacco in cigarettes is harmful to the body because you are effectively inhaling carbon monoxide and tar, along with over 5,000 toxic chemicals. It poisons the body, so the liver has to work overtime, flushing out the excess chemicals. The constant strain on the organ means toxins aren't removed properly and stay circulating in the blood. It creates a build-up of harmful substances in critical organs such as the lungs, kidneys, and liver. 
Enhances the risk of liver fibrosis
Inhaling toxic chemicals travels down the bloodstream and into the liver, irritating and inflaming it. The perpetual inflammation causes fibrosis – when the ordinarily flexible walls of a healthy liver accumulate scarring. The scarring thickens and stiffens the liver, shrinking it in size and restricting blood flow.  
Can lead to liver failure
The vital organ will shrink if you develop liver fibrosis until it can no longer function. Toxins build up in the blood to uncontrollable levels, including fluid in the brain and a lack of blood clotting. This is known as liver failure and is an extremely severe and life-threatening disease.
What Does Alcohol Do to the Liver?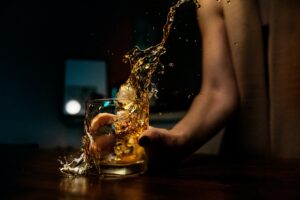 Photo by Vinicius "amnx" Amano on Unsplash
Builds up toxins in the liver
Drinking alcohol effectively poisons the body because it penetrates into cells and tissue, which causes the pleasant effects of feeling talkative and relaxed. However, abuse of alcohol kills cells, so your body cannot repair itself and fight off illness or injury. In an attempt to eliminate the poisonous substance, the liver works hard to remove it from your bloodstream. However, the process tires out and damages the organ until it cannot function anymore.
Increases risk of liver cirrhosis
Cirrhosis is stage 4 (the final stage) of fibrosis. It's a critical amount of scarring in the liver and can cause it to shut down. Alcohol stops chemicals from breaking down scar tissue, so it builds up and replaces healthy cells. Eventually, cells cannot regenerate and repair. The liver hardens, becomes small, and can no longer cleanse the blood for a healthy functioning body. 
Up to 15% of heavy drinkers have cirrhosis of the liver, which can lead to liver failure. 
Leads to liver hepatitis
Hepatitis is inflammation of the liver caused by irritating substances. The inflammation swells the walls of blood vessels and restricts blood flow, so it cannot filter through the liver efficiently. Instead of eliminating toxins, harmful chemicals become stagnant in organs and increase to unhealthy levels.
Can cause irreversible liver damage
Long-term excessive consumption of alcohol causes an accumulation of inflammation and scarring in the liver. It reaches a critical point when the liver can no longer heal and work properly. When the liver reaches this point, it causes irreversible damage, and a liver transplant is the only cure. 
FAQs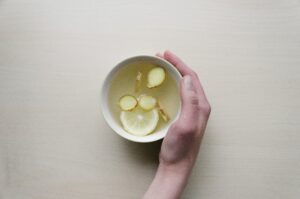 Photo by Dominik Martin on Unsplash
How do you clean your liver?
Clean your liver by reducing the amount of alcohol you consume. Try and eat between five-ten portions of fruit and veggies a day and a balanced diet of whole grains, seeds, nuts and foods that reduce inflammation. Amino acids also help detoxify the body, so ensure you include your daily protein intake.
How can I repair my liver?
You can repair the liver by significantly reducing alcohol. Drinking in moderation is fine, but too much is the leading cause of liver disease. Maximise your liver function by eating a balanced diet and quitting smoking. Be aware of medications you may be taking that are hard on your liver, and increase exercise to help blood flow and detoxify.
Does lemon water detox your liver?
Yes, lemon water is an excellent way to reduce inflammation and increase blood flow which helps detox the liver. It's also a great source of Vitamin C. Squeeze lemon juice into some warm water at the beginning of the day to kickstart your liver and kidney function.
How to Reverse Liver Damage (and Look After Your Liver)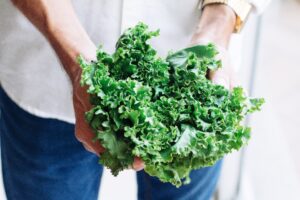 Photo by Adolfo Félix on Unsplash
If you are suffering from liver damage but it has not reached a critical level, then there are things you can do to heal it. Implementing the correct methods early on starts the healing process in a matter of days, although it can take several months to repair completely, depending on the severity.
Quit smoking

– you knew this one was coming! Stopping smoking is a fast way to lower the volume of toxins in your body immediately.
Reduce your alcohol intake

– a small amount of alcohol is fine, but if you depend on it to reduce stress or have a habit of overdrinking, you must stop to prevent scarring and permanent damage to the liver.
Eat foods that promote healing

– certain

liver-healing foods

such as leafy greens and berries contain anti-oxidants which protect your cells from free radicals.

Free radicals

are volatile atoms that damage and cause cancerous cells. 
Drink warm lemon water

– adding a few tablespoons of fresh lemon juice to your water stimulates and improves the function of the liver.

Studies

have also shown the liver increases its production of beneficial enzymes when there is lemon water in the body.  
Move your body

– daily exercise increases blood flow around the body and speeds up the process of flushing blood through your liver. Walking is an excellent place to start and a simple activity to implement each day.
Best Blood Test for a Healthy Liver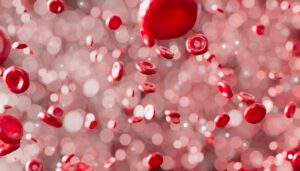 The Goodbody Wellness Liver Blood Test checks your blood for signs of liver damage. You can use the results to manage the health of your liver and make critical lifestyle changes. 
Alcohol and Smoking Have Detrimental Effects on the Liver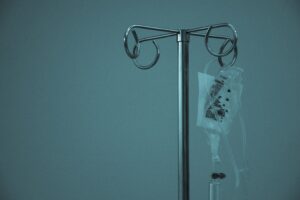 Photo by Marcelo Leal on Unsplash
If you want to live a healthy and happy lifestyle without fear of liver disease or significant health complications, reducing smoking and alcohol consumption is necessary. You can take small steps toward healing, starting with a liver blood test, and take charge of your health one step at a time.
Take me to the healthy liver blood test!
If You Found This Article Useful, You May Also Like:
References
http://hepctrust.org.uk/information/liver/hormone-regulation#:~:text=The%20liver%20regulates%20the%20balance,any%20excess%20from%20the%20body.
https://www.nhs.uk/common-health-questions/lifestyle/what-are-the-health-risks-of-smoking/
https://www.mayoclinic.org/diseases-conditions/bile-reflux/symptoms-causes/syc-20370115#:~:text=Bile%20is%20a%20digestive%20fluid,in%20some%20cases%2C%20the%20esophagus.
https://medlineplus.gov/ency/article/002222.htm
https://britishlivertrust.org.uk/information-and-support/living-with-a-liver-condition/blood-clotting/#:~:text=The%20liver%20produces%20proteins%20that,a%20planned%20procedure%20or%20surgery.&text=This%20is%20the%20time%20it%20takes%20for%20your%20blood%20to%20clot.
https://www.nhsinform.scot/healthy-living/stopping-smoking/reasons-to-stop/tobacco
https://www.actionpf.org/information-support/smoking-and-pulmonary-fibrosis?gclid=Cj0KCQjw94WZBhDtARIsAKxWG–NnCR38ViR7M5lnkC2qEk8zBiealw7a484iZadzH2UjjzmyG4y_aYaAj9yEALw_wcB
https://www.ncbi.nlm.nih.gov/pmc/articles/PMC546435/
https://www.mayoclinic.org/diseases-conditions/acute-liver-failure/symptoms-causes/syc-20352863
https://www.theguardian.com/science/2011/mar/07/safe-level-alcohol-consumption#:~:text=Alcohol%20is%20a%20toxin%20that,in%20the%20UK%20can%20kill.
https://www.oxfordgutandliver.co.uk/conditions/liver-fibrosis-and-cirrhosis/#:~:text=Fibrosis%20describes%20any%20degree%20of,of%20liver%20disease%20is%20higher.
https://pubs.niaaa.nih.gov/publications/arh27-3/209-219.htm#:~:text=Heavy%20drinkers%20and%20alcoholics%20may,of%20alcoholics%20will%20develop%20cirrhosis.
https://childliverdisease.org/liver-information/childhood-liver-conditions/hepatitis-b/?gclid=Cj0KCQjw94WZBhDtARIsAKxWG-9ODWfKAfyAGxB6HK6cpR4Qc9qtHwXf_XHAct_Wd32zB_z8z2NCK9waAgMXEALw_wcB
https://chopra.com/articles/6-foods-to-heal-improve-your-livers-health
https://www.medicalnewstoday.com/articles/318652